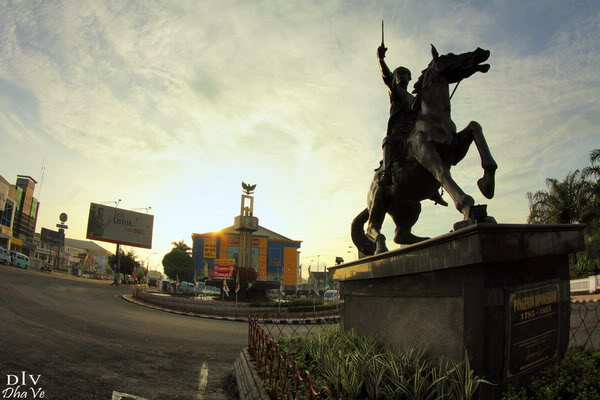 Salatiga

Salatiga city is one of cities in Central Java regency which is fully bounded with Semarang Regency. Salatiga is located in 49 km in south side of Semarang city or 52 km in north of Surakarta city and lies along to the road between Semarang-Surakarta.

Date back of the origin of the name, Salatiga is thought to be named either after the goddess of Trisala, or after the three wrongs done to the first king of Semarang.

In the first explanation, the people of the village celebrate the goddess of Trisala called the village Trisala and in the years to come became Salatri and eventually Salatiga. The second explanation based on folklore is that of Ki Ageng Pandanaran, the first regent of Semarang, was robbed by three muggers, and he thus named the location Salah Telu. Salah means wrong in both Indonesian and Javanese. Telu means three or Tiga in Bahasa Indonesia. Hence the name Salatiga from Salah Tiga.

There are several sources relied to reveal the origin of Salatiga, which was derived from folklore, the inscription as well as research and studies are quite detailed. From some sources, the Inscription of Plumpungan was the very based origin of Salatiga that truthful believe and become one of tourism destinations from historical background. The official birthdate of Salatiga was 24 July 750 A.D. (the 31st date and 4th year of the Saka calendar). The scroll Monolith of Plumpungan by King Bhanu, declares May you be happy! All the people ("Srir = astu swasti prajabhyah") and designated village of Hampran (Desa Hampran) a Perdikan village (Desa Perdikan, meaning a tax-free village).

Salatiga is located at an altitude of 750-850 meters above sea level, and situated on the eastern slope of Mount Merbabu that make the region become more cool than other area. The views of Mount Ungaran, Mount Telomoyo, and the beautiful Mount Merbabu make Salatiga become magnificent and spectacular areas.

Salatiga is the one can proud for its culinary that become particular in the area. There are some traditional cuisine that can be taste for those who visit Salatiga, like the origin of Wedang Ronde. In Javanese or Indonesia in particular, Wedang means typical of hot drink. That makes differentiate between the iced and hot drinks. Ronde is made with peanuts, little rice-dumpling balls, mutiara or pearl-like or we can call it like small rounded jelly, candied orange peal, and other little jelly-like, gelatinous-substances. Then the broth is made from gingery-syrup and sugar. It is hot because the fact is should be in hot presentation, and also warm because of the gingery touch. Indonesian people are consume this beverage when the cold and windy air is arrive.

Other foods are coming from the traditional snacks like 'ampyang' or sugar-peanut cookie, lung chips, 'dendeng' or typical of beef jerky and 'abon' or shredded beef. Those are so yummy.
http://www.indonesia-tourism.com/forum/showthread.php?51423-Salatiga-One-of-Ancient-City-in-Central-Java