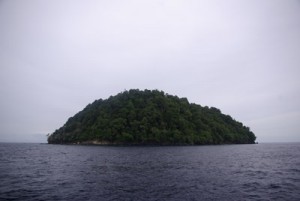 Rondo Island

Rondo is other outer island of Indonesia, it located in the Indian Ocean and adjacent to the territory of India, the Nicobar Islands. Rondo island is the northernmost territory of the Republic of Indonesia and is administratively a part of the town of Sabang, Aceh province. This island is one of small islands in Sabang regency area together with Klah, Rubiah, seulako and Weh Island. Rondo island is close in the north of Weh island.

Geographically, Pulau Rondo that located in the frontier regions of Republic of Indonesia is very strategic since it becomes an international shipping line. This waters that bordering India and Thailand is also has abundant marine wealth. Rondo island is administratively located in the Ujung Ba'u village, Sukakarya District, City of Sabang, Aceh Province, it is deserted and uninhabited.

This island is beautiful, especially when it viewed from Quick Bird satellite imagery. The whole island seemed wrapped in a green carpet. There is only one building stands out in red. That is the complex and lighthouse keeper's house. Around the island, there is wet tropical forests that covered with various types of vegetation of trees, herbs, and shrubs that bind this mainland that having altitude of 35 meters above sea level. The types of vegetation in this forest such as trees, various kinds of fruits, cloves, ketapang, gelumpang, sea timber, Medang, Lagan, and so on.
http://www.indonesia-tourism.com/forum/showthread.php?51032-Rondo-Island-Sabang-Nanggroe-Aceh-Darussalam