Thousand islands of Jakarta are commonly visited by tourists who want to enjoy and spend their holiday in the middle of crowded by Jakarta city. In general, the islands have the beauty of undersea biota. But apparently there is an island there which is not only beautiful, but also keep various historical value of Jakarta during the colonial era. The island namely Onrust. The name 'Onrust' is taken from the Dutch language in English means 'Unrest'.
The name Onrust is suitable given to the island, since in the Dutch colonial era, the island became the center of loading and unloading of trade commodities and shipbuilding of Vereenigde Oostindische Compagnie (VOC), Netherlands.
Endlessly activities on the island making the Dutch people called it the Onrust or unrest. However, because of many ships anchored off the island, the local people knew it as Pulau Kapal or Ship Island. Long before the island was monopolized by VOC, the kings of Banten used it as a resting place. The Dutch compeleted Onrust island with dock, fort, gunpowder warehouse, bastion, and windmills to move the wood saws. However, since the Tanjung Priok port was built, the prestige Onrust Island then fading. But in 1905 Onrust island was then back to be prioritized by establishing a weather station on the island . In 1911 Onrust was converted into a quarantine of Hajj until 1933 . During 1933 to 1940 the island became the place of exile of prisoners and rebels .
At the time of Indonesia's independence the island was used as a quarantine Hospital, especially for people with infectious diseases under the supervision of the Ministry of Health until early 1960s . In 1960 to 1965 it was used to shelter the homeless and beggars, as well as for military excercises . In 1970 Onrust was designated as historic island .
to reach Onrust island, you just have to cross 10 to 15 minutes from the Port of Muara Kamal, North Jakarta with a distance of about 14 kilometers . Arriving there, brown painted monument with a typical Dutch windmill-shaped, directly welcome the visitors . Entering the inside of the building, there were also rows of large sized rooms up to the former toilets .
On this island there is also a Dutch building that functioned as a museum. You can observe the historical objects there. Moreover, on this island, there are also two shrines and prison building surrounded by barbed wire .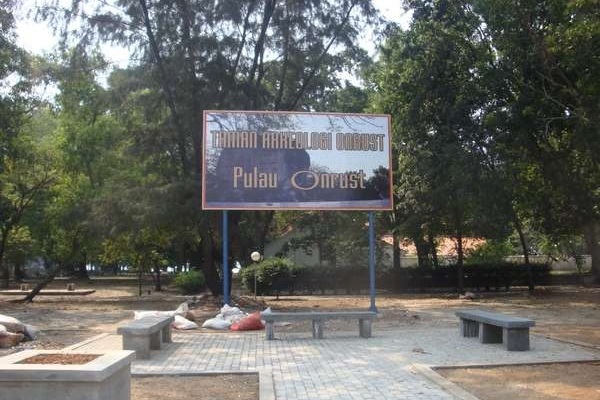 Source : www.indonesia-tourism.com