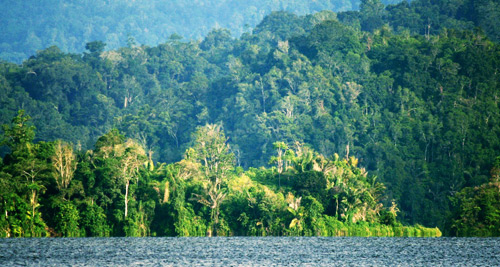 Lore Lindu National Park is a huge forested protected area on the Indonesian island of Sulawesi. The area of the national park is 2,290 km² covering both lowland and mountain forests with an altitude range of 200 – 2,610 m. Some of its more popular inhabitants include the Red-Knobbed Hornbill and the Giant Civet. 227 bird species have been observed in the park, 77 of which are endemic to Sulawesi. In addition to the rich wildlife, the Bada Valley located in the park also contains stone megaliths dating from ca. 1300. The national park is also an official UNESCO Biosphere Reserve.
Interesting locations/attractions:
Besoa Valley: maleo habitat, megalith sites and recreation.
Lake Lindu, Gimpu, Wuasa, Bada: rowing on the lake and observing birds.
Saluki, Bada, Napu Valleys: megalith sites.
Mt. Nokilalaki, Mt. Rorekatimbo, Lariang River: mountain climbing, camping and rafting.
Lewuto Lake: vistas over the lake, ancient human remains at Moradino.
Dongi-dongi, Kamarora: camping, thermal springs, forest exploration.

One of the cultural attractions outside the Park is the Lake Poso Festival in August.

Best time of year to visit: July to September.

How to reach the Park: 
Palu-Kamarora by car, 2.5 hours (50 km); or Palu-Wuasa by car, 5 hours (100 km); then Wuasa-Besoa by car, 4 hours. Palu-Kulawi, 6 hours (80 km). The trip into the Park area can be made on foot or on horseback along these routes: Gimpu-Besoa-Bada; and Saluki (Sidaonta)-Lake Lindu.
http://www.indonesia-tourism.com/forum/showthread.php?49038-Lore-Lindu-National-Park-Forested-Protected-Area-in-Central-Sulawesi