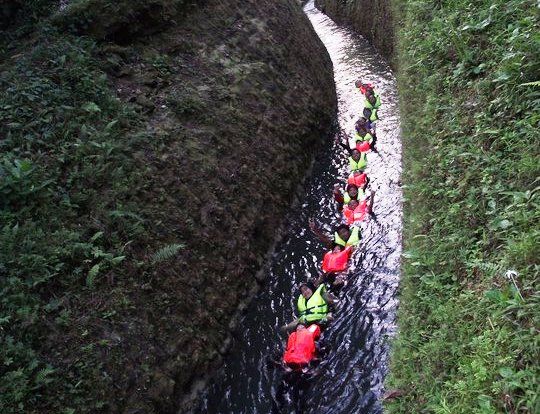 Citumang tourism is the best choice destination for lovers adventure and Challenging. This Green valley Citumang is also in the area of Pangandaran Beach. This river quite popular for body rafting, especially among the tourist. Body Rafting on Citumang River is very exciting and fun. 

The river is located at Bojong village, Parigi sub-district, Ciamis, West Java around 15 kilometers from Pangandaran beach. From Bandung, the capital city of West Java to Pangandaran can be reached by using land transportation with the distance around 236 kilometers.

After arriving at the entrance of Citumang River, you have to walk around 300 meter to get to the river. After arriving at Citumang River, you will be amazed with its beauty. This river flows as if splitting teak forest with its blue water. Citumang River is also decorated with beautiful rock, the branches of trees and shrubs. The stream of the water flows from a cave. You can do various tourism activities there. You can take a bath, go swimming or jump from the waterfall.
This tourism object is quite unique because Citumang River has river flow which comes from a cave and falls like waterfall. Behind the waterfall, there is another cave which is quite long and is located just beneath the surface of the river.

Citumang River has water fast current which makes the water flow bring your body down to the river. Flowing down Citumang river is interesting tour activity which you can do there. River rafting is done by way of body rafting. Before doing body rafting, you must first use safety devices, such as a life vest and helmet.Body rafting at Citumang River is safe. You can relax with the flow of the river while enjoying the beautiful natural exotica, and natural teak forest surrounding Citumang river.
http://www.indonesia-tourism.com/forum/showthread.php?48335-Body-Rafting-on-Citumang-River-Tourism-in-Ciamis-West-Java