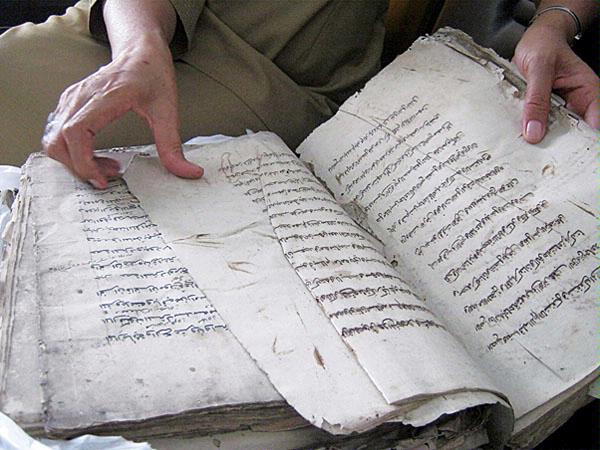 In this museum, you will find two exhibition halls, namely space and Permanent Exhibition Temporary Exhibitions. In both this space, you can see the 3660 collection, including the education Biologika, etnografika, arkeologika, historika, numismatika / heraldika, filologika, and keramologika.
Among the thousands of collection, which is a special collection of 126 manuscripts hitherto unknown identity of the author (anonymous). Currently, ten of which have successfully translated into Indonesian. Collection of ancient manuscripts containing the poem, history, and discourse that, tens or even hundreds of years old.
Apart from the ancient manuscripts, the museum stands on an area of 9974 square meters is also has a collection of traditional fabrics. One of them is Besurek fabrics made of cotton with manufacturing techniques such as batik cloth.
Cain Besurek have motifs such as Arabic calligraphy. However, these motifs have not established that the word can not be read. That said, the cloth is an outgrowth of the symbol of Surya Majapahit in the Hindu-Buddhist in Indonesia.
One more feature of this museum is a collection dimilik printing machines with brand Drukkey Populair Golden Press. The printing press made in the United States made in 1930 were never used by the Government of Indonesia to print money red. Money is a kind of red Oeang Republic of Indonesia (ORI), which functioned as legal tender, specifically in the area of Bengkulu.
If you are interested in increasing knowledge of history, you can find the Museum of Bengkulu Province Road Development in number 8, Padang Hope, City of Bengkulu, Bengkulu Province.
Access to the museum could use public transport, taxis or private cars. From the airport, this museum is only 9 kilometers, about 19 kilometers from the port, and from the terminal about 3 kilometers.
Museum of Bengkulu Province is open every day except Monday, from 8:00 to 13:00 o'clock
In Bengkulu Province Museum, Collections are divided into 10 size groups are packed into the tour for visitors. The groups are:
1. Collection Geologika / Geografika: The object is an object of scientific disciplines of geology /
geography include rocks, minerals and other natural formations.
2. Biologika Collection: The object is an object of scientific disciplines of Biology.
3. Etnografika Collection: The object is to be the work of ethnic groups in the lampausampai the
present. They were used to facilitate and improve the standard of living.
4. Arkeologika Collection: It is a collection of archaeological objects in the past that have survived until
now. These objects are the result of cultural relics from the prehistoric period until the entry of the
influence of western culture obtained from the excavation (excavation)
5. Historika Collection: The object is merupakanbenda related or have been used in historical events
relating to a community organization, figures and so on.
6. Collection Numismatika / Heraldika: Is any currency or legal tender which ever applies, while Heraldika
is any decoration, emblem or official insignia including cap and seal.
7. Filologika Collection: The object is an object of scientific disciplines of geology / geography include
rocks, minerals and other natural formations.
8. Keramologika Collection: The object is made of baked clay, with high temperatures from different
countries.
9. Fine Arts Collection: Is It a form of painting that has a value for art.
10. Teknologika Collection: The object is to describe the development of technologies from traditional to
modern.
Source : www.indonesia-tourism.com